Endodontics under dental microscope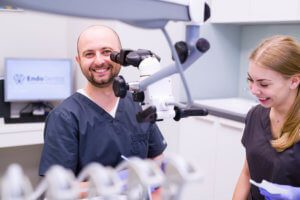 When the caries is not cured at an early stage, the bacteria reach the root and cause severe pain. In this situation, the only method of tooth preservation is endodontic treatment.
The tooth canals have a diameter of about 0.06-0.4 mm. For this reason, modern root canal treatment must be performed under microscope.
At EndoDentist, over 95% of teeth treated with a root canal under a microscope are cured during ONE visit.
At EndoDentist, each root canal treatment is carried out under a microscope that guarantees effective and precise root canal cleaning. We work with the highest quality equipment, recommended by outstanding endodontists in the world.
Our clinic is equipped with spot x-ray next to the dental chair, which enables digital x-ray of the tooth during the procedure, which significantly reduces its time and improves patient comfort.