Come and see that
your perfect, healthy smile
is possible with us.
The first visit is above all time to get to know each other.
During the first visit, our specialists will have a partner conversation with you and conduct a detailed examination. Based on medical and dental interview, detailed intraoral camera examination and x-ray images, we will understand your expectations and needs, and this will allow us to create your individual treatment plan with an estimate costing.
Your treatment will take place in a pleasant and partner atmosphere, and after completing the entire treatment plan, we will ensure regular control and maintenance of the results obtained.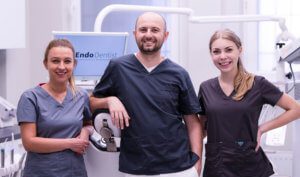 How to schedule an appointment?
Choose the convenient form of contact for you:
Medical and dental interview
Before the first visit, we will ask you to complete a survey, which the doctor will then discuss with you. The information you provide is important because, along with a detailed dental examination, it will form the basis for preparing your individual treatment plan and will allow us to implement it in accordance with your expectations and needs, as well as in a way that is safe for your health. Please arrive 15 minutes before the scheduled date of your first visit to complete the form.
Dental examination and diagnostics
During the first visit, a dental examination using an intraoral camera and a pantomographic image will be carried out. If necessary, we will also perform diagnostic models of teeth and photos with a digital camera. All of the above images will form an integral part of your medical records and  will allow us to accurately diagnose you and create your individual treatment plan.
All the diagnostics described above take place on site during the first visit and are completely painless and safe for the Patient.
Partnership dialogue and presentation of the treatment plan
At EndoDentist, you decide how your smile will look, and we advise you on how to achieve this effect based on your medical history and diagnostics. We present the possible treatment options along with the costs and help you decide on the right plan based on your expectations and needs.
At the first visit, your dentist will present a preliminary treatment plan, and if you need multi-specialist treatment we will prepare a detailed treatment plan, which you'll receive the at your next visit. We will present a detailed cost estimate, and the costs of individual treatments will not change during its term.
You can ask your dentist about everything at any stage of planning and treatment.
Treatment
Depending on the individual dental care plan, we start treatment on the first visit or the next.
At EndoDentist we are pain-sensitive, which is why all treatments are performed under local anesthesia. In order for the visits to go smoothly and comfortably, they are always led by a team of dentists and dental assistants. Our clinic is equipped with the latest equipment and the highest quality materials, so that the treatment is effective and durable.
After treatment, we remind you about follow-up visits and we invite you for hygienization treatments.
Warranty
We provide a 24-month warranty for the patients who implement the agreed treatment plan.