General dentistry is primarily about caries treatment.
We always clean the tooth from tooth decay and restore it using dental loupes or a microscope.
A good filling is one that cannot be seen – aesthetic, airtight and durable. Work in enlargement and the use of the best composites by GC – the undisputed leader among manufacturers of materials for aesthetic dentistry, allows maximum accuracy in mapping the anatomical shape and natural color of the tooth.
The scope of general dentistry also includes the reconstruction of broken teeth. Below we present the effect of such treatment in one of our patients.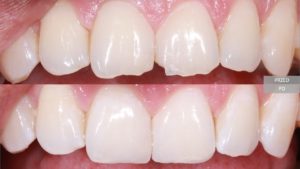 At EndoDentist, we aim to make the treatment completely painless, which is why local anesthesia during the procedure is our standard for which we do not charge a fee.